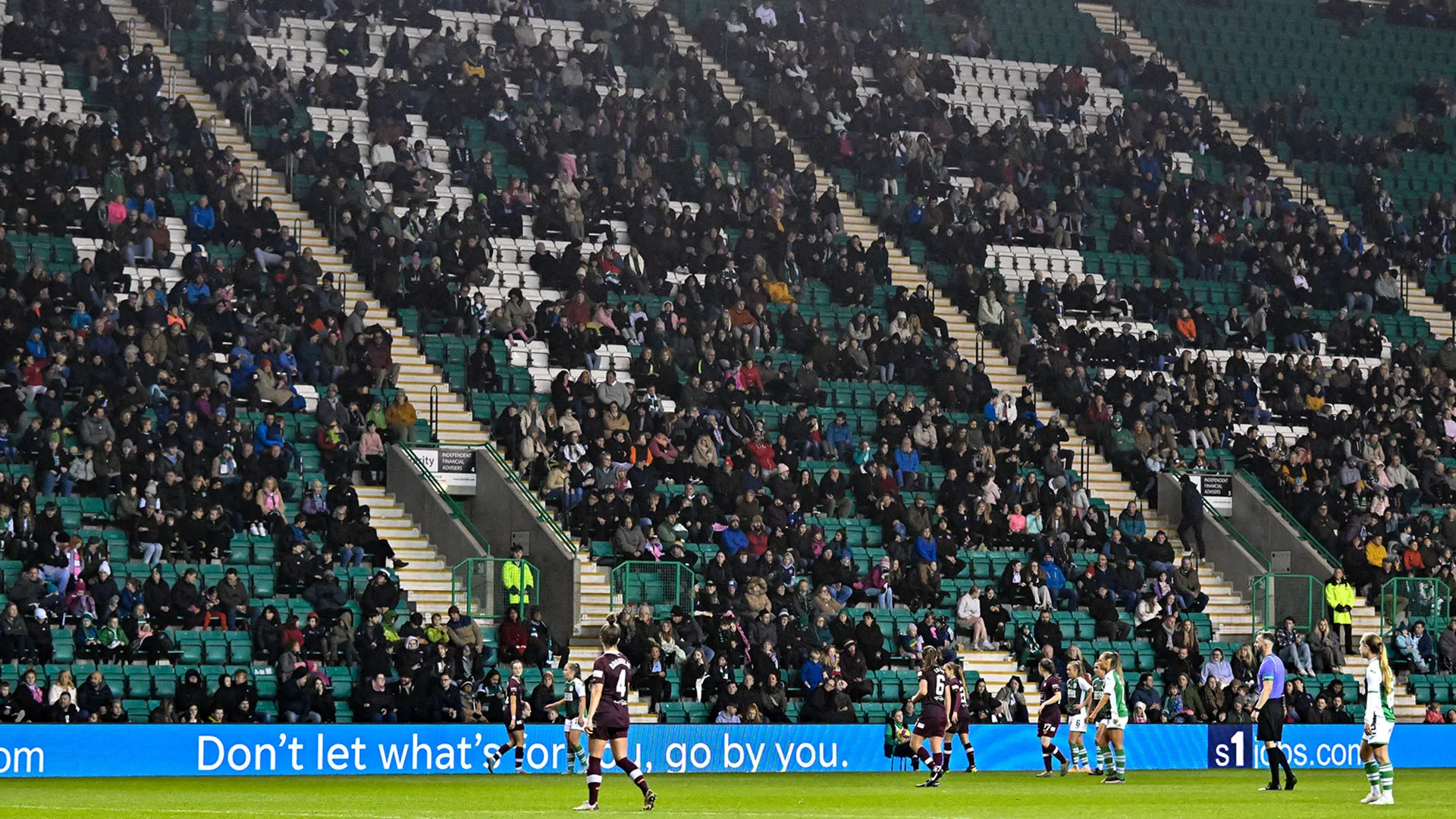 Record-breaking weekend for the SWPL
The Scottish Women's Premier League (SWPL) have confirmed a record-breaking weekend for attendances across the leagues with just over 12,700 fans. With no men's Scottish Premiership action, there was a super weekend of action, and no fewer than five derby matches in the SWPL.
A total of 12,720 fans attended an SWPL match across Saturday and Sunday, including an incredible record domestic attendance of 8,066 at Hibernian v Heart of Midlothian. The Old Firm derby attracted a crowd of 3,328 on Saturday at Broadwood, the Lanarkshire derby had 521 at New Douglas Park, and Partick Thistle had a record home crowd of 271 for their game against Glasgow City.
SWPL Managing Director, Fiona McIntyre, said: "This is another historic moment for the SWPL and the women's game as a whole. What we're seeing is the continued growth of women's football in Scotland and a desire for fans to engage with it. When big games are played within the best stadiums in Scotland, we can now expect thousands of fans to attend. This is a huge moment and one we can't underestimate.
"I think this weekend gives clubs further confidence in the direction of the game. From the outset, we pinpointed the FIFA men's world cup period as a potential window of opportunity for women's football in Scotland, with no men's Premiership matches over the world cup period. This weekend's attendances are hugely encouraging and illustrate the increasing appetite for women's football in Scotland. It is our role, alongside the clubs, to capitalise on that interest and ensure games are as accessible and affordable as possible to encourage attendance."
The attendance from this weekend also suggests positive signs ahead of the first domestic cup final of the season. The SWPL will host the Sky Sports Cup Final on Sunday 11th December (12:30 KO) between Rangers and Hibernian at Tynecastle Park. The record crowd for this final was 3,645 last year at Firhill and Fiona is hopeful this can be beaten again this year.
"We're on track to see a record crowd at the Sky Sports Cup Final" she said. "Tynecastle Park is one of Scotland's top stadiums, a perfect backdrop for this final. Rangers and Hibernian are also both well supported and in fine form going into the match. I'd encourage any fan who was out this weekend to buy their ticket and be part of another historic moment for the women's game."
Tickets are priced at just £8 adults and £1 concessions and can be purchased here.