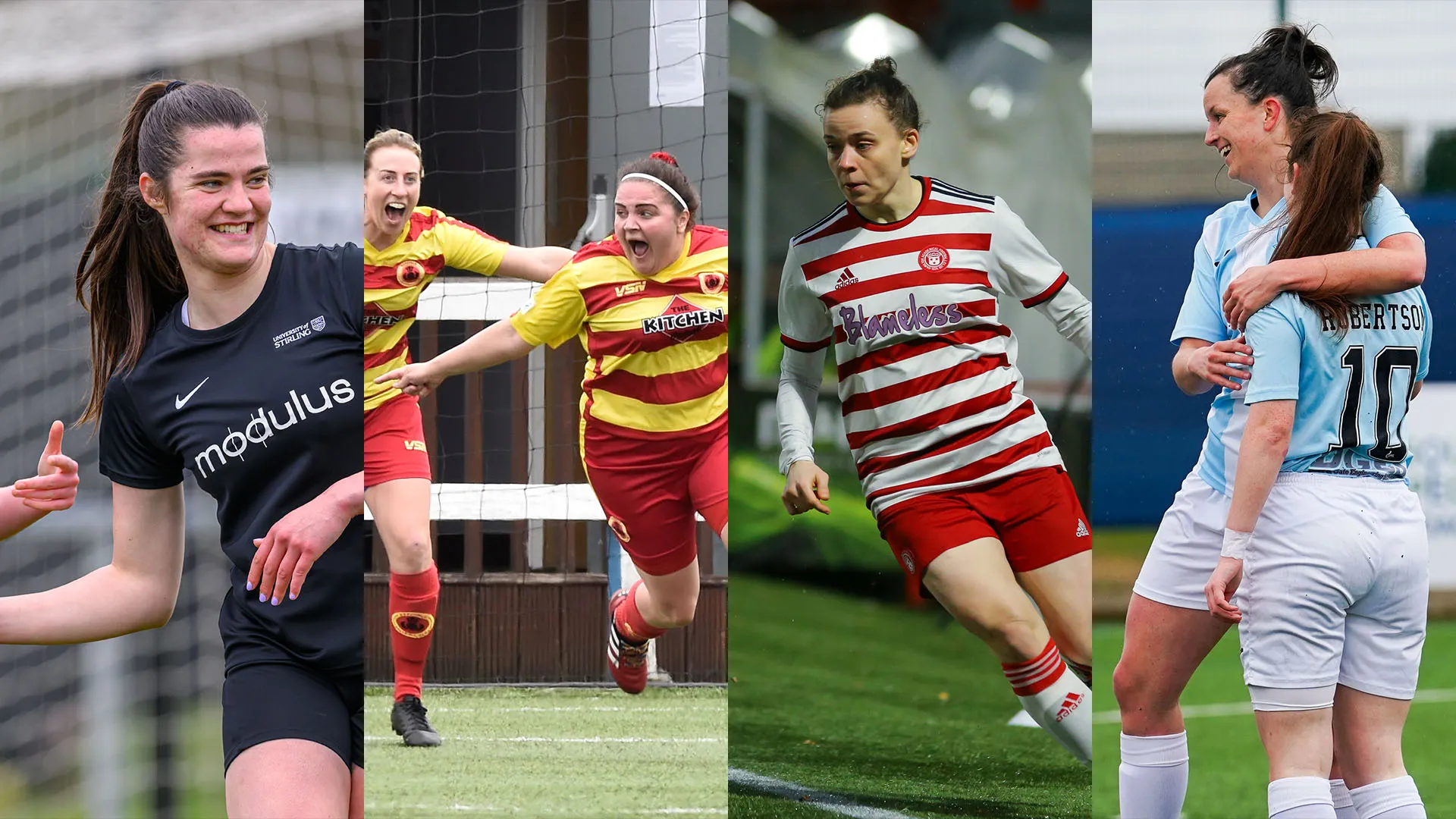 SWPL season concludes with Play-off Finals
Photos provided by (L to R) Malcolm Mackenzie, Ger Harley (Sportspix), Colin Poultney, and Simon Wootton (SNS Group)
BUY TICKETS VIA FANBASE BY CLICKING HERE
This Sunday the 2022/23 Scottish Women's Premier League (SWPL) season concludes with the first ever play-off finals. Both the SWPL 2 (12:10 KO) and SWPL (16:10) finals will be held on the same day, back-to-back at Broadwood Stadium.
After a dramatic final day in both the SWPL and SWPL 2, these matches provide an opportunity for clubs to earn promotion or to retain their current league status.
Over 500 tickets have already been sold, with entry for the full event just £3 for adults and free for concessions. Both matches will also be live on BBC ALBA, the first women's matches at this level to be broadcast.
In the SWPL 2 play-off final, Stirling University take on SWF Championship side Rossvale.
Stirling University finished seventh in SWPL 2, 12 points clear of bottom-placed East Fife, but 16 adrift of Queen's Park in what was an extremely competitive league.
Stirling University Head Coach, Nile Robbins, said: "We are really excited for the play-off. We've been playing well and building momentum in recent weeks, with the knowledge that everything we do now puts us in the best position possible.
"The players have been giving everything in each training session, as we know how much this means and we are looking forward to showing everyone what we can do on the 4th of June."
Rossvale enter the Play-off Final after a last day victory over Renfrew. The SWF Championship side knew a draw would be enough, but they were comfortable 3-0 winners on the night to claim their spot as runners-up.
Rossvale First Team Manager, Julie McSherry, said: "We are finally coming to the end of a long and exciting season. I couldn't be happier with the progress we have made as a team and as a club. The girls have been absolutely brilliant all year and shown great resilience when things haven't gone our way to always bounce back. We look forward to all of the challenges to come next season and beyond."
In the SWPL play-off final, Hamilton Academical face Gartcairn.
The New Douglas Park side finished 11th in the SWPL, but took the battle to avoid the play-off spot to the final day of the season. Away to Dundee United they earned a point, which wasn't quite enough to leapfrog their opponents to guaranteed safety.
Hamilton Academical Head Coach, Gary Doctor, ahead of his final game for the club said: "Obviously the play-off position we wanted to avoid but while it is disappointing, it is also a chance to finish our season on a high with our own Cup Final in that effect.
"We have been playing well after the split and took things down to the last game which shows just how competitive SWPL has been.
"Anything can happen in a one-off match and we will be doing everything to impose our style onto the match and come out as the winner".
Gartcairn finished runners-up in SWPL 2 after a final day victory over Stirling University. The side, who were only promoted in 2021/22, have either been top or second in the table for the vast majority of the season as they now look to achieve back-to-back promotions.
Gartcairn Head Coach, Robert McCallum, said: "I am immensely proud of my players and backroom staff in getting to the play off finals considering we are merely two seasons old.
We are under no illusions that we are the underdogs but we truly hope can do ourselves proud on the day and manage to play the occasion."
Fiona McIntyre, SWPL Managing Director, said: "We look forward to concluding an exciting 2022/23 season with these play-off final matches. The format of the one-legged ties adds drama and tension that I have no doubt will result in absorbing football and a momentous occasion for all involved.
"We are also delighted these matches will be shown live by BBC ALBA. This is a strong signal of the growing strength and interest in women's football in Scotland as we expand the level of coverage throughout the game."